March 16, 2016, Anna Gray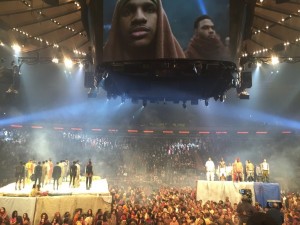 YEEEEEEEEZZZZYYYY !! Killin it with S3 shown at Madison Square Garden 11/02/16
The KARDASHIANS in KANYExBALMAIN supporting Kanye in his latest collection, YEEZY S3, the refugee inspired collection, muted tones, rugged and raw – an amazing 3rd collection from the "King".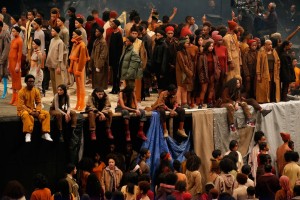 However, aside from the collection itself critics swiftly looked upon the social status of Kanye and his friends and family. The Kardashians watched the show, adorned in -fur, jewels all connoting luxury and richness – clothing from the collection in which Kanye collaborated with Balmain a week before, made especially for the family attending the show. The elite style of the socialite family contrasted with the 'refugee' inspired collection below, which depicted poverty and lack of financial stability- many critics have gone craaaazzy over this… but thats Kanye for ya!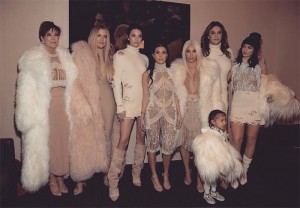 Kanye's twitter naturally blew up after the show, with my favourite tweet response of his being
"fashion ain't no joke for me… It's a way of life… creative expression and industry…"
– we feel you Kanye !!
The racial and political statement Kanye wanted to express along side the release of 'The Life of Pablo' his latest album has not gone down well with some. But even if we don't all agree that's fashion & art – the freedom of expression and a way of life.
Megan X