Model Students represents the freshest faces around. We are the only modelling agency proudly providing professional modelling jobs to individuals in full-time and part-time education. Our passion is encouraging a healthy attitude towards body image and promoting a diverse and ethical industry standard. 
With models based in the East Midlands, London and Manchester we are focused on delivering a quality modelling service to our clients, including John Smedley, Paul Smith, Costa Coffee, London College of Fashion, Madame Tussauds and Squat Wolf. Whist maintaining a professional attitude in all aspects of our work, we endeavour to have a friendly and unpretentious approach in everything we do. 
Company Director – Anna 
Having modelled since 2006, Anna worked on campaigns for Tigi Bead Head and Wella whilst studying for her business degree at The University of Nottingham. Having realised how well modelling fitted alongside her studies, in her final year she launched Model Students, creating a Nottingham based agency that is recognised as ethical, student friendly and for delivering a quality modelling service to a whole range of clients.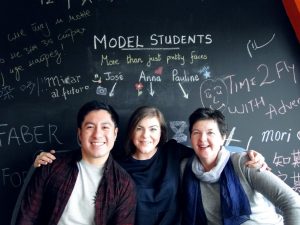 Our small team in both our Nottingham and London offices are passionate about looking after our models and providing a quality service to our clients. We are proud of our success to date and even more excited about our future!
Testimonials
Stuart Clarke – Boots  -"We have been using Model Students as our primary source of models for our beauty how-to videos for a number of years. Anna is always accommodating and great to work with, and all of the models that we have used have been very professional and friendly. I wouldn't hesitate to recommend them, and look forward to working with them again in the future."
Amber Crawford – Epona Clothing – "Everything went incredibly smoothly and all of the models were wonderful, all brilliant to work with both in terms of the actual modelling and also just general personality etc – everyone was on time etc so it was really great."
Ian Chappell – Pretty Polly Tights – "The shoot went brilliantly, thank you! The girls were just so great – all up for it and we had a great laugh. We were dead impressed with them all – a real pleasure to work with.. THANKS."
Nancy Ambrose – Pro:Direct Sport -"Both Model Student models and Bookers are wonderful to work with. The team are very friendly, accommodating and always provide a broad casting choice. We know that we can rely on their bookings."