July 10, 2018, Sophie Hunt
Keeping yourself feeling confident and comfortable can be difficult on holiday, especially when it comes to beauty. For me, the hot weather does not agree with my appearance – the humidity causes my hair to frizz, any stitch of makeup is sweated away within half an hour, and I burn so easily that I constantly resemble a tomato. However, these beauty mishaps can swiftly be resolved, so here are my top tips for making the most of holiday beauty.
Skin:
Moisturise – travelling can take it's toll on your skin. If you're jetting off on a plane, the recycled air whilst flying can completely dry it out. If possible, remove all makeup before the flight and apply plenty of moisturiser to keep your face happy. The heat can also cause your skin to flake and dry out, so make sure you top up your moisturiser regularly all over your body. Using moisturiser also helps a tan to last longer.
Use suncream – although this is a very obvious one, it's importance cannot be understated. Use a high factor suited to your skin and reapply every couple of hours. Even when wearing makeup, apply suncream to your face beforehand. If you're in and out of the pool throughout the day, then ensure you purchase a waterproof sunblock too. My complexion is close to a milk bottle, so I always lather on some factor 50 and stay in the shade as much as I can. Aftersun lotion is also a life-saver if your skin is feeling a bit sore after a long day in the sun.
Drink water – it's even more essential to drink plenty of water when on holiday; you'll keep hydrated and your skin will thank you for it. Make sure the tap water is safe to drink though, and if in doubt stick to bottled water and avoid drinks with ice.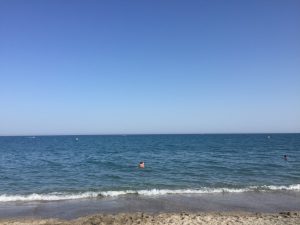 Makeup:
Go makeup free – if you wish to do so it might be worth giving your skin a break and stepping aside from the makeup for a few days. A relaxing holiday is the perfect time to show off your natural beauty. When on holiday I usually go bare-faced during the day and then apply a light layer of makeup in the evenings for a confidence boost.
Make your makeup last – if you do opt to wear makeup whilst away, setting spray will become your best friend. Not only does it feel cooling and refreshing on your skin, it helps your makeup to last much longer and keeps the shine at bay. A matte powder will also be very handy to apply throughout a hot day.
Match your skin colour – you skin tone may change slightly whilst on holiday, to accommodate for this take a darker concealer or foundation with you if you're hoping to catch a tan. Alongside this, a bit of bronzer wouldn't go amiss to match your tan or enhance it, giving you a sun-kissed glow.
Hair:
Tame the frizz – some of us unfortunate folk struggle with our hair whilst on holiday and end up looking like Monica from F.R.I.E.N.D.S in the humidity. But fortunately, there are ways to calm the frizz down. Try applying mousse, hair oils and sprays to help your hair look shiny, smooth and slick.
Avoid drying your hair out – being in the pool or sea is not the best thing for your hair since the salt water and chlorine can really dry it out, so ensure you look after it as much as possible. When washing, apply plenty of conditioner to add moisture. Every few days, try a hair mask and leave in for a few hours before washing out to give your hair an extra boost. Try not to blow dry your hair or use straighteners constantly, and if you do use a heat protection spray to protect it.
Keep it out of your face – I don't know about you, but my hair really gets on my nerves if I leave it down all the time, particularly in the heat. Play around with different up do's instead – plaits, buns and pony tails are a good shout for this.
I hope you have found these tips and tricks useful, have a wonderful summer and enjoy the heatwave we seem to be having at the moment!
Sophie xx