March 30, 2016, Anna Gray
Model Students receives hundreds of applications from young people wanting to model. Something that always takes us by surprise is how many of them are from teenagers, some children, even, as young as 11.
There is currently a parliamentary inquiry into banning under 18's from the catwalk to protect them from some of the issues the industry faces, including eating disorders and financial exploitation, so this is certainly a hot topic. We decided to take a look at some of the press coverage teen models have received and we spoke to our head of recruitment Pauline and began to dig a little deeper.
Generally we don't take on models under the age of 18. We do have a few who are 16 and 17 years old and with these models we are very clear on the fact that their parents are present at initial meetings with us and that they know everything their children are doing."

Sophia Mechetne in Dior age 13            Alexandra Vasic in Zandra age 14
Teenagers can work in other industries, so if we banned teen models from the catwalk this could be seen as discrimination against the fashion industry, especially when some agents and designers are taking steps to protect those teens.
It seems to be when there is a lack of protection that it becomes an issue. In fashion often anything goes. Models can often work long hours in return for photos, clothing or exposure. Minimum wage restrictions and legal working hours seem to slip through a loop hole when it comes to fashion.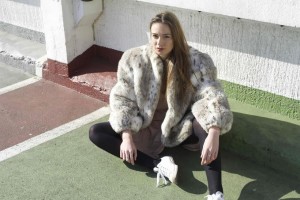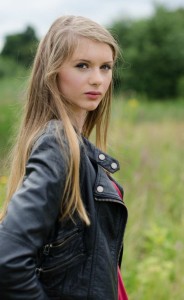 Emily Jane and Heather both with Model Students, both age 16
MPs believes that banning under 18s from the catwalk will reduce the pressure on older models to maintain a pre-pubescent figure. Across the Channel government intervention is already reality. Not only is France discussing banning under 18s but they have also recently banned models with unhealthy BMIs.
It is our responsibility as an agency to make sure our models are happy, being treated correctly and making the right decisions", says Pauline. "It is one of the reasons why we prefer to deal with models who are 18 plus. Those few years make such a difference when it comes to sticking up for yourself when something isn't quite right."
Modelling can introduce people to fantastic opportunities to travel, to meet exciting people and to earn money and it is obvious that when models hit their mid-twenties a lot of these opportunities seem to dry up. Model Students have sent model options over to Milan for fashion week and found that they will only consider girls under 25, so we know that a fashion model's career is usually short. Our priority will always be to give our models a healthy and supportive environment to make the best of the chances they get.
Whatever your view the likes of Sophia Mechetne and Alexandra Vasic have shocked as they graced the catwalks in sheer dresses for designers Dior and Zandra. I am sure we will all agree that they do look fabulous but is it really OK for a 13 year old to be "working it" on the catwalk like Mechetne, or on the red carpet like Kaia Gerber?
Well….the subject certainly seems open for debate.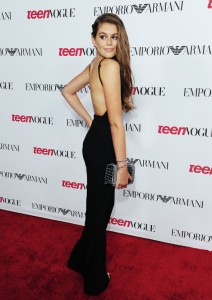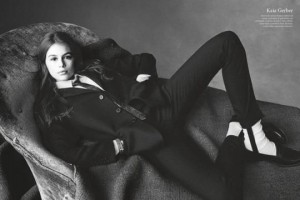 Kaia Gerber age 14