November 9, 2016, Sarah Chapman
It's an undeniable fact that for many of us, social media has become a big part of our everyday lives, we're obsessed. And why shouldn't we be? More communication with friends and family, constant updates on news from all over the world, discovering new and exciting things, and so much creative inspiration! It's fab!
Statistics show that 87% millennials use 2-3 tech products every single day – and let's guess what they're doing on them some of those times… Social Media!!! Yay! It's not just millennials using social media, 2.4bn people have social media accounts.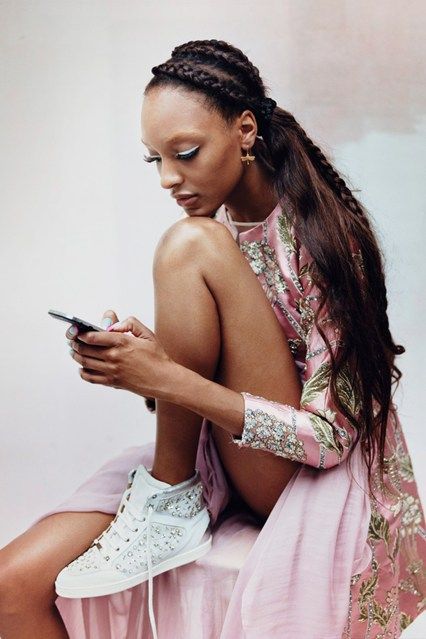 You're probably wondering why I'm going on about this? It has become a crucial part of the fashion industry to have an online presence. Many modelling agencies and models have their own Facebook, Twitter, Instagram, Blog…you get the idea, that are constantly updated. Social media now has the ability to turn people and brands into worldwide stars.
20 years ago, key elements that a supermodel had to possess were, killer features and a great look, a wonderful set of legs and attitude to match. But now, that's no longer enough for a supermodel.
Name recognition has always been a powerful asset in a model's career, but whereas in the past the public mostly got to know the industry's biggest players through countless covers, campaigns, gossip columns and paparazzi photos, today's social media has enabled models to make names for themselves. Social media give models a chance to be more than just a face on a magazine, it gives them a sense of freedom. It enables them to show their personality, and talents outside of the modelling world, adding depth to their career in an industry which can be percepted as shallow.
Personally, I feel that all this is a good change, and movement in the industry. Models and agencies can interact with a lot more people.
Now you can be someone's favourite model because of how they connect with you on Twitter– Gigi Hadid (Killer queen of social media promotion, alongside Kendall of course)
Social media opens many opportunities for young and up and coming models to be seen and scouted, For example; the W Magazine x IMG Models model search, which scouted new models using #Wmagmodelsearch on Instagram. And agencies get a chance to sign faces that otherwise, they would have never even seen!
The future is upon us, and it's looking bright for the modelling industry!
Lots of love, Saz xo