In January we received an application from Millie Kalinowska, beautiful and ambitious Millie ticked all the boxes and we just had to invite her for interview. Before we even had the contract we signed we had a booking for the stunning blonde at Pro Hairdresser Live with KH Hair. Since then Millie has booked jobs for Joules, Practical Photographer and McDonald Waterfall as well as modelling for Nottingham Trent fashion student Jenny Brew.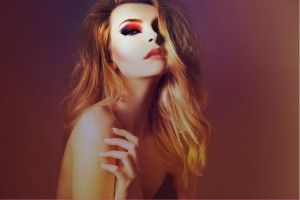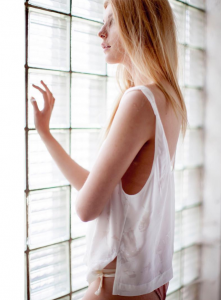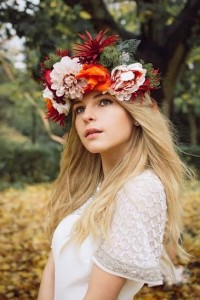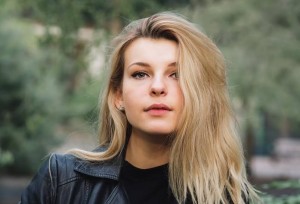 We thought it was about time we asked Millie a few questions about her experience with Model Students so far.
What made you decide to apply to Model Students?
"I first heard about Model Students through my stepsister who had previously worked with the agency and some of their gorgeous models, her positive words led me to researching the agency a little more and everything I read made me think "Wow, this would be a great agency to work with" and so I applied. Living outside of Nottingham seemed like it may lead my application to be declined, however Anna was more than happy to welcome me into the Model Students family. As I will be moving to Nottingham later this summer, I'm looking forward to further strengthening my relationship with the agency."
What was your first job with Model Students?  How did you feel going to your first job?
"One of my first jobs with Model Students was with KH Hair for Pro Hair Live. I was really nervous but so so excited a the same time, as not only it was my first time working with the KH team, it was also one of the first times I met some of the other models signed with the agency. The experience was great, everyone was absolutely lovely and the atmosphere was brilliant."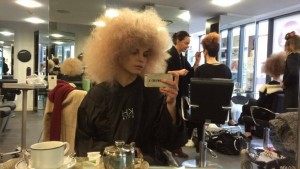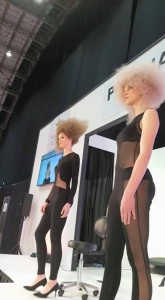 Millie with KH hair at Pro Hairdresser Live.
Do you think that modelling fits well alongside college/uni?
"Absolutely, I think modelling is such a confidence booster and it makes you want to look after your health, body, sleeping patterns etc. Having recently finished 6th Form and receiving my IB results, I can can confidently say modelling did not at all distract me from my studies and instead it was a way of relaxing and taking my mind off everything that was going on at school and things which were stressing me out. I strongly believe that as long as you have your priorities in place, modelling is really fun and exciting, as well as a great experience as every job is different, therefore you're always testing yourself and growing as a person."
Have you always wanted to be a model?
"As a child I was very skinny and tall, I always stood out amongst my friends so people would always say things like "Oh you should be a model or play basketball", and when I was younger I didn't necessarily understand whether those were purely compliments or whether they were honest comments, so I just had a childhood like everyone else, I played with my friends and went to school. As I got a little older, especially in high school, I became very aware of my insecurities and flaws so just as any other teenager I didn't really want to put myself out there as I was afraid of getting judged. However, a few years back I began to regain my confidence and I really went for it, I applied to many any different agencies, and I was knocked back so many times but I didn't give up and I'm so grateful and proud of myself now for not letting other peoples opinions get to me and for chasing after my dreams."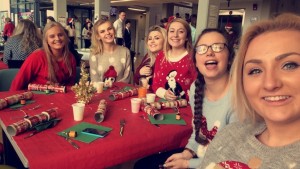 Millie with her lovely Mum and celebrating Christmas with friends
Do you think that models are portrayed well in the media?
"I think in the past model portrayal was really quite negative, and it created these impossible expectations of a woman being stick thin yet looking glowingly healthy. Don't get me wrong, there is absolutely nothing wrong with being really slim but there is also nothing wrong with being curvy. In today's society, many agencies, fashion and beauty based companies have introduced plus size models which is a great step forward, but I do believe that there is still room for improvement."
What has your favourite job been so far?
"So far, my favourite job has been a shoot for Practical Photography which I did a couple of months back, purely because we changed locations quite a few times and there were multiple outfit changes, so all in all it was a really busy day and although it was absolutely freezing outside, the atmosphere was really nice and the team worked together brilliantly."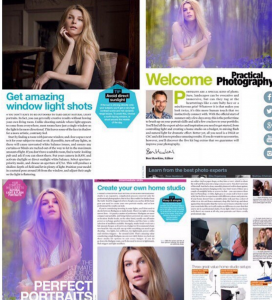 Millie in Practical Photography magazine
What advise would you give to anyone aspiring to be a model?
"Confidence. That is all you need, it's so difficult to make it in the modelling and fashion industries so you just cannot give up, no matter how many people tell you you're not good enough, or how many times something causes you to get a little emotional, you just need to keep focused. If you're determined, you'll achieve your goals."
We are super excited to have Millie on our books, she has been a pleasure to work with so far and we are looking forward her move to Nottingham at the end of this summer. With her fabulous looks and fantastic personality we can't wait to see what else is in store for Millie xxx