May 4, 2016, Darren Choong
It seems just yesterday that I was trying to keep my composure while presenting my slides for Anna and Pauline at my interview. It's hard to imagine how four months have just flown by!
Prior to applying, I had absolutely no idea what I was getting myself into. Sure, I was quietly confident I could do a job social media-wise. And I did have some inkling of fashion and modelling from TV, but I could not have anticipated what was to come in the months ahead. It's fair to say – as I always do – I have not looked back since…
Getting stuck into a fashion show on just my second day was, in retrospect, a sign of things to come. It was Sarah Clifford's Charity Fashion Show at Nottingham Trent. Arriving to a frenzied and almost chaotic atmosphere in the dressing room, I was admittedly a little overwhelmed, confused, feeling slightly out of place. But I knew I just had to get on with it and get loads of pictures for Twitter and Snapchat. There was no time for me to be frazzled. It was a fulfilling first experience of modelling, especially as this show was for a great cause, Maggie's Cancer Centre.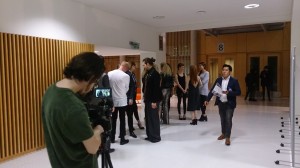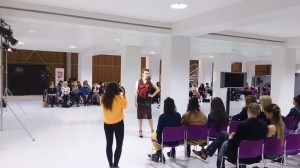 From my first experience of a fashion show to my first interview with one of our models, I had the absolute privilege to sit down and speak with Asta. Chatting with her immediately erased any misconceptions I had about models. Having the opportunity to write profile pieces about the models – namely Faye, Nikkita, Rob T. and Shivani – was such an enjoyable and worthwhile experience.
Aside from this, I was also able to delve deep into sensitive issues plaguing the fashion industry, such as unpaid work and models' sizes. These issues were challenging to tackle, yet very fruitful at the same time. Being able to help voice the agency's concerns and views about these issues was certainly one of the best parts of the job.
Another highlight during this past few months was being at photoshoots. Splitting an afternoon between Nottingham Trent's studio and Nottingham's city centre, I got to observe the work done by some talented and passionate student photographers, as they endeavoured to get the perfect shot of our models.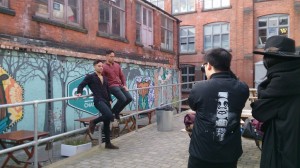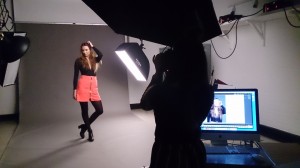 Of course, it was great to see the models in action as well. Whether in the warmth of the studio or out in chilly Nottingham, they still made it look so easy and effortless as they produced stunning photo after photo.
What was pleasantly surprising was how the models were always so cooperative and willing to help one another. I saw how their personalities shone through most recently at Nottingham Fashion Week. With all the last-minute prep being done and everyone not exactly in-sync, it was so comforting to see the models band together and support one another, all to ensure their parts of the show went off smoothly. Meeting and getting to know these models was another great aspect of this job. They truly are more than just pretty faces.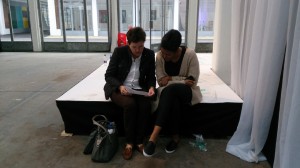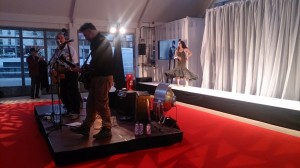 Yet the best part of this entire internship has to be working alongside Anna, Pauline and Jose. I could not have imagined how supportive and welcoming they have been! Just being around them not only helped me learn so much about running a business, but also about managing people and relations – which in itself I have come to realise is one of, if not the, most important aspects of being in business.
I learned so much about the fashion industry, but what I'll truly take away from working with Anna, Pauline and Jose is the importance of doing things the right way, the ethical way, and this definitely made my internship here a truly memorable one.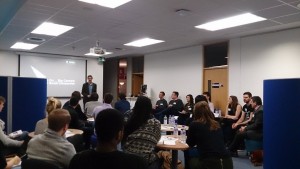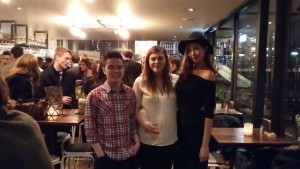 I was also so privileged to attend so many events in such a short space of time – a careers event at the University of Nottingham, a social by the University's Entrepreneurial Society, as well as having the honour to speak about this very internship in front of Santander UK's SME department as well as the University's Vice-Chancellor. I was just glad I could repay the faith as a positive representative for the agency.
With most of the time spent in the Ingenuity Lab, completing everyday tasks such as working on social media, researching for new business contacts, as well as sitting in at models' interviews completed the entire experience, and gave me a deep insight into working in a small, growing company – one which sees Anna, with the support from Pauline and Jose, do almost everything on her own.
In all, this experience with Model Students ended up being everything I had hoped for in an internship. It fitted in so well alongside my studies, and I am so grateful to Anna, Pauline and Jose for this opportunity, and if I had to do it again, I would take it on in a heartbeat!