August 6, 2018, Sophie Hunt
With the rise of the internet it is unfortunate that print magazines are increasingly struggling. Whereas classic fashion magazines such as Vogue continue to thrive, others have fallen victim to the death of printed forms. Since we can now view content online for free, why spend a few pounds a month on a physical copy of the same articles? With this new attitude in mind, what does it mean for the future of fashion magazines?
The benefit of online magazines is that they can constantly be updated to keep up with the fast-paced fashion world. Whereas a print issue is a more long-term project which can take months to complete, online articles are much quicker to write and publish. Some would argue that print magazines simply cannot catch up with the instant, multi-modal and digital age that we currently live in due to the lack of interaction with the reader.
One example of a women's fashion magazine that has felt the effects of a reduction in print circulation is the British version of Glamour. Since 2017 they have adopted a digital-first approach, cutting back from one print issue a month to just two issues a year. Similarly, in 2014 Company magazine moved to online only, with their final print issue being published in October 2014. Therefore, this highlights how even successful and well-known fashion and lifestyle magazines owned by big umbrella companies are struggling to shift their print copies.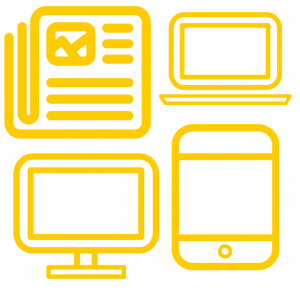 It is not only the decrease in readership that is affecting print magazines. Advertising is their main source of income, and now brands are faced with the choice of sticking with print advertisement or moving towards digital advertisement on websites. However, it is evident that many luxury, high-end brands continue to partner with prestigious print fashion magazines in order to match the aesthetic they are trying to portray.
Social media has also had a huge influence upon the way we receive news. Nowadays celebrities and brands are more likely to share news on their own social media pages, rather than approaching and paying a magazine outlet to print a story for them. This means that celebrity gossip magazines like Heat and Closer have suffered in particular. With vlogs, blogs and podcasts becoming more and more popular, there is less need to rely on print. Print forms certainly are not being used exclusively anymore.
However, this doesn't mean that it is the end for print magazines. Instead, they simply have to ensure that the quality of their content is high enough that people will be willing to pay for it. It is possible for fashion magazines to maintain both an online presence and a regular print form of their content, meaning audiences have the best of both worlds.
Whilst it is true that the print magazine market is changing, this doesn't mean that it will be ending anytime soon. It is evident that there still exists print magazines with a high status and reputation for delivering quality content. This means that women's fashion magazines have an exciting future ahead, combining print and digital mediums in a creative and engaging manner.
I would love to hear your thoughts on this topic, do you still purchase print magazines?
Sophie xx