May 30, 2018, Sophie Hunt
Here at Model Students we have your back when it comes to being up to date with the latest seasonal fashion trends. To help you out, we have compiled a list of the top five looks to keep an eye out for this summer. And what's more, these items can be found on the high street, as well as the catwalk, so you don't have to spend a lot of money to stay right on trend.
YELLOW
Every high street shop seems to have got on the yellow bandwagon in the past few months, and what better colour to brighten up your summer wardrobe with? Yellow looks fab on all shapes and sizes, and with so much yellow on offer, you're certain to find something that suits you. Yellow shades also compliment a tan really well, so show off that summer glow! If you think it's a little too bold for your taste, try a softer, pastel lemon instead for a cute, vibrant look.
FLORAL
Some trends return for a season year on year and never go out of fashion; floral patterns are definitely one of them. Whether it be a skirt, dress or top, any item covered in flowers screams summer and is perfect for a sunny day, whether at home or on holiday. Floral patterns are ideal for summer weddings too, giving a touch of class and fun. Mix it up with different colours and fabrics to create a floaty, flawless look. Floral items are never hard to find!
SEQUINS
Summer also means festival season, and this time around festival looks are all about the sequins. Sequined tops and dresses are a perfect choice for the out-there and unique pieces that festival-goers often seek, giving an outfit a bit of sparkle in the sun. Not only are sequins all the rage for summer festivals, they can be dressed up for an evening occasion, providing a bit of glitz and glamour.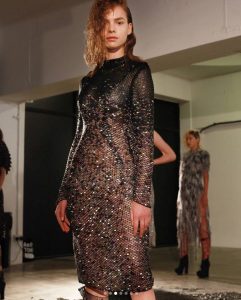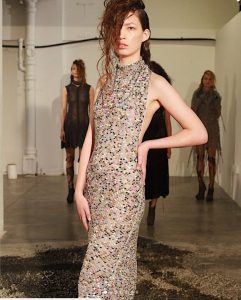 Images taken by Jose from Rhys Ellis SS18 LFW presentation.
EMBROIDERY
Embroidery was a massive trend last spring/summer, and this year it's back again with a boom. Embroidered flowers, jewels, fruits and animals are a firm favourite, adding a pretty, colourful touch to any plain item. Brands like Gucci and Alexander McQueen love embroidery, and it's easy to find in more budget-friendly shops like New Look, Topshop and ASOS too. So, there's no excuse not to show off an embroidered pattern this summer.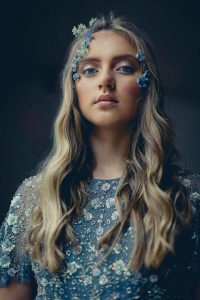 Image shot by Magdalena Kuczmik.
MULTI-COLOURED/PATTERNED DENIM
It's no secret that denim never ages, but multi-coloured denim items, such as jackets, skirts and shorts, have really taken off at the moment. If you have a worn, faded pair of jeans or a tired denim skirt lying around, one good hack is to dye it a different colour yourself. You can pick up a pack of dye really cheaply from any craft store, just soak your piece of clothing in the dye, wash it through and you're good to go! Why not be creative and add a pop of colour to your well-loved denim items? As well as changing up the colours, many high street shops have opted for patterned denim items, including polkadots, pinstripes and checkerboard print.
There you have it! My top five picks, hopefully you've found this helpful and you're feeling ready to push the boat out with some striking styles this summer.
Sophie xx